Christmas time is a great time of the year to encourage more family time! We love to read books together. We are homeschoolers so we read every day, multiple times a day. I've never done this before, but I've always been interested in ordering books for kids to open in the month of December & then reading them together!
What a super fun way to get into the Christmas spirit, encourage reading, and enjoy each others company!
However, we are living in a travel trailer now (you can read all about that here) so we are limited on space. Filling our trailer with books throughout an entire month would just be too much stuff. On top of living in a small space, we are also trying to downsize the amount of stuff we have anyway. It's amazing how much you can accumulate without even realizing!
So…I am going to share with you here books that can be read on a Kindle! There is a computer kindle app, kindle app for Apple devices, Android devices, and Google devices on top of being on the actual Kindle. There are so many ways to read the ebooks. It will be easier to get to, also! I know kids won't be opening them each night, but what a super fun way to read together!
Here I will share with you a printable that you can write down the books you want to read with your kids ahead of time, and check one-off each time you read it! Get the printable at the bottom of this post!
And 12 books I plan to read with my kids in this post to help give you some ideas!
Reading to children has been shown to increase their learning ability, increases their concentration, helps them learn about the world around them, and introduces them to language. Reading to your children is simply put, amazing & necessary.
>>>10 Benefits that highlight the importance of reading with young children<<<
I hope you find some amazing books for your family, and have a book-filled December this year!
Before you go…
I want to introduce to the incredible ONLINE unit study all about Christmas from Techie Homeschool Mom.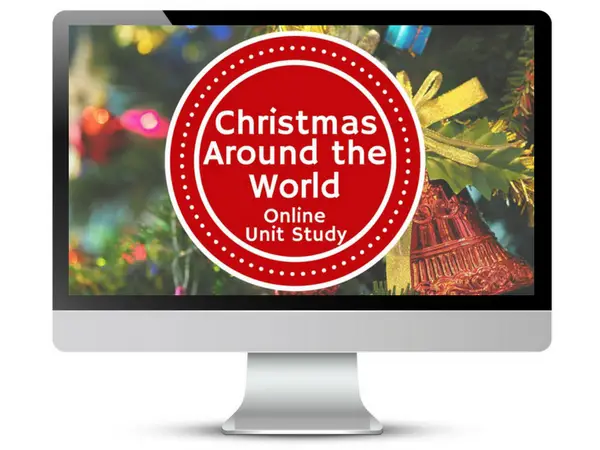 Learn about 10 countries and their Christmas traditions
Create hands-on and digital projects
Prepare an ethnic Christmas feast
Click the link above to head over & check out this awesome online unit study! We have started using these more and more, and I am loving them! My oldest is our tech-savvy one and she loves when I tell her its time for another online unit study! Very interactive, and fun!
Do you have any fun Christmas traditions you do with your family? Tell me in the comments or head over to IG and tag me @weird.wild.mama with photos of things you do!
-Danielle
Let's Be Friends!