When I first heard about Little Passports I was hesitant because some companies are out there just trying to make money, and in doing so send out really crappy kits for too much money. I didn't want to do that. Our finances were tight back when we first started so I was definitely trying to avoid that.
I had read a little about it on social media posts and I had seen the images they shared so I decided to just jump in, hoping for the best.
(This post contains affiliate links. If you make a purchase from a link or image, I make a small commission at no extra charge to you)
Um, we love it.
I have been getting Little Passports kits delivered for 8 months now. We have two different packages we have two different ages to order for. But I will be tacking on the littlest member of our family with their younger box which is the one my 6-year-old is currently subscribed to. I am sure my 2.5 year old will think that is the coolest thing, ever! She is always trying to get into her sisters projects.
Black Friday starts now: save up to $40 with code: BESTDEAL
We still have some left because we don't use them when they come in mail. We have a special Little Passports box that we put them in so we can pull them out on days when we need a break from formal learning or when we're extra tired or just need some fun. We did one back in September that I think was my oldest favorite one. She got to build a model of a skeleton! How fun!
My oldest is the a very visual, hands on learner. Her ADHD make that her main way to learn. Workbooks and textbooks just don't do the job. This skeleton project she did completely on her own by following the very visual instruction manual, and she was so unbelievably proud of herself, and so was I! That is why I love these subscription boxes. It makes learning for her fun, and engaging for her learning style. We ordered her the Science Expeditions
Little Passports kit for ages 9+!
We still have one more project left from this shipment. She will be making a robotic hand!
Make sure to follow me on Instagram, that's where I share all the fun things we're doing!
My 6-year-old was just over 5 when I first ordered these so I got her the box for 3-5 year olds, but it has proven to be a little too easy for her, and not enough projects in it. That's why I think it will be perfect for my 2.5 year old. When I place the order for my littlest to start getting one I will be switching my 6-year-old to the USA Edition package! Perfect age for her!
But, here she is enjoying the one she has been getting! She has been getting the Early Explorers
Little Passports kit for ages 3-5!
The Tic Tac Toe game was fun! She loves workbooks, that's her jam so the workbooks were great for her! She's excited to step up an age group! I mean, she is 6 now! 😂
I'll throw some photos in here because I just love how neat these things are, and I know how much people love to look at pictures!
Ready to get these awesome kits sent to you home for you awesome kids?! Click one of the images below!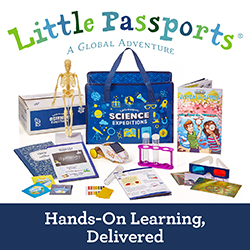 I hope you enjoyed this article about Little Passports. What a great company! Fun, educational, hands-on kits that encourage a love for learning!
Have you used this company before? What did you think?! Let me know in the comments!
>>>Share this with your friends!<<<

You can check out my other article on using electronics in the homeschool, too!
Electronics in homeschool: A How-To on using them responsibly.
Let's Be Friends!